Do you want to buy crypto on the KuCoin exchange platform? If you want to start investing in cryptocurrencies, you need a reliable platform to buy and sell your cryptos.
There are many crypto trading platforms available. However, not all have good rates and trading fees on their platform.
In this guide, you will learn how to buy crypto with your bank card on the KuCoin exchange platform. In addition, we will be designing a cryptocurrency logo using pixellab. The logo we are creating is a replica of one of the best crypto exchange platforms, KuCoin.
Content:
What is KuCoin?
KuCoin is a cryptocurrency exchange and trading platform that lets you easily buy, sell, and trade cryptos. It is known as the "people's choice" because they have one of the best rates in terms of trading fees and support over 700 altcoins on the platform.
KuCoin provides Spot, Margin, Futures, and P2P fiat trading to over 18 million users in 207 countries worldwide. They also have options for Staking and Lending which is a reliable way to earn passive income from your crypto assets.
Advantages of Buying Crypto on KuCoin using a Bank Card
There are other ways you can buy crypto from the KuCoin exchange platform. However, buying with your bank card has many benefits.
Faster Way to Buy BTC
When compared to other methods of buying crypto, using your bank card is much faster. Because you only have to enter your card details and then the transaction will begin to process.
Beginner Friendly
Trading on the P2P platform can be overwhelming for beginners in the crypto world. Buying crypto with your bank card is easy as long as you have little experience with making online payments.
Lower rates/Charges
When you buy from the P2P platform, you trade using the Black market rate in your country. However, using bank cards usually go through the official rate which is less than the black market rate. Also, there are lesser charges as opposed to using a third-party payment gateway.
How to Buy Crypto on KuCoin Using Bank Card
The process is fairly straightforward and beginner-friendly. Follow the steps below to buy BTC on the KuCoin exchange.
First, go to the KuCoin fast buy page. After that, you need to log in to your KuCoin account. If you are a new user, you can create an account for free here. You need to verify your account by completing the KYC verification before you can trade on the platform.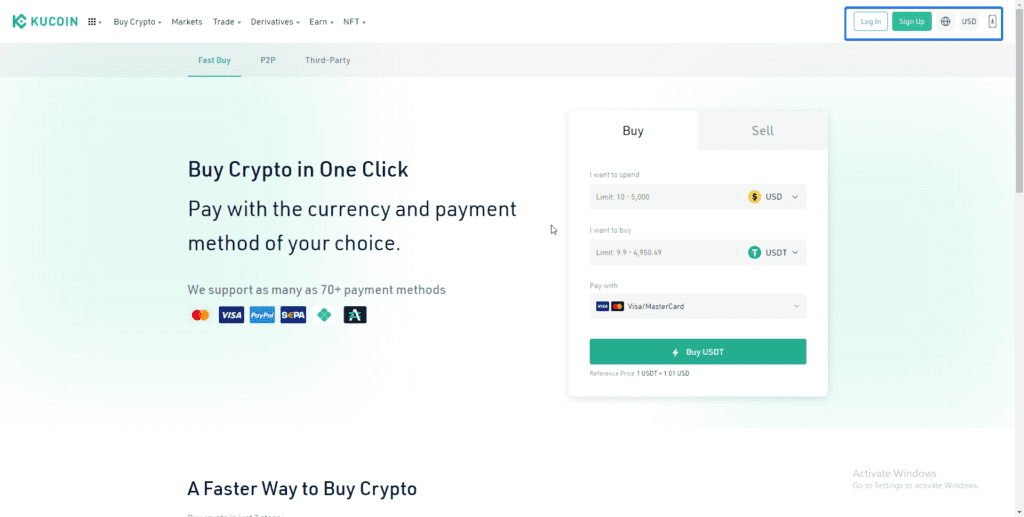 After logging into your account, select the crypto you want to buy and the fiat currency you intend to pay with.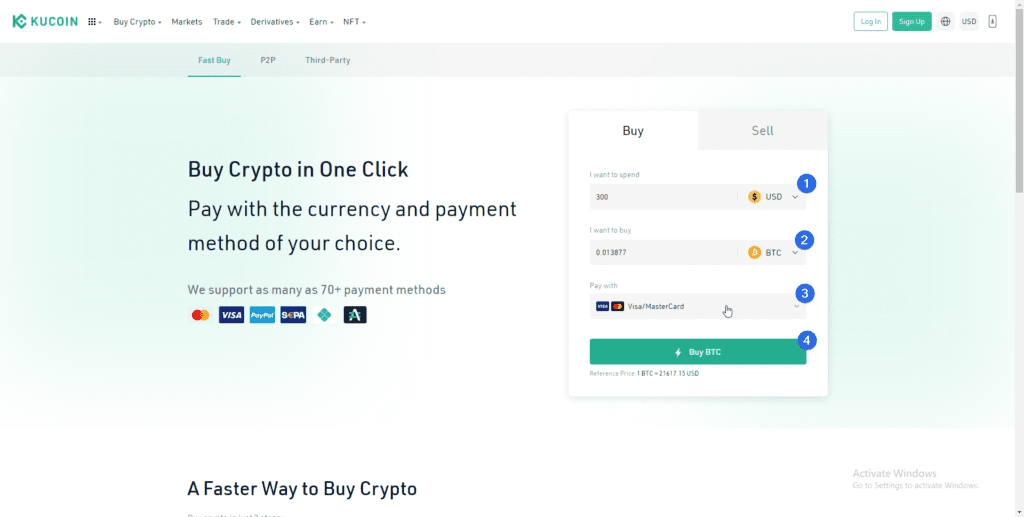 Next, select the bank/debit card option. You need to enter your card details before proceeding with the transaction. For this click on the Add Card button.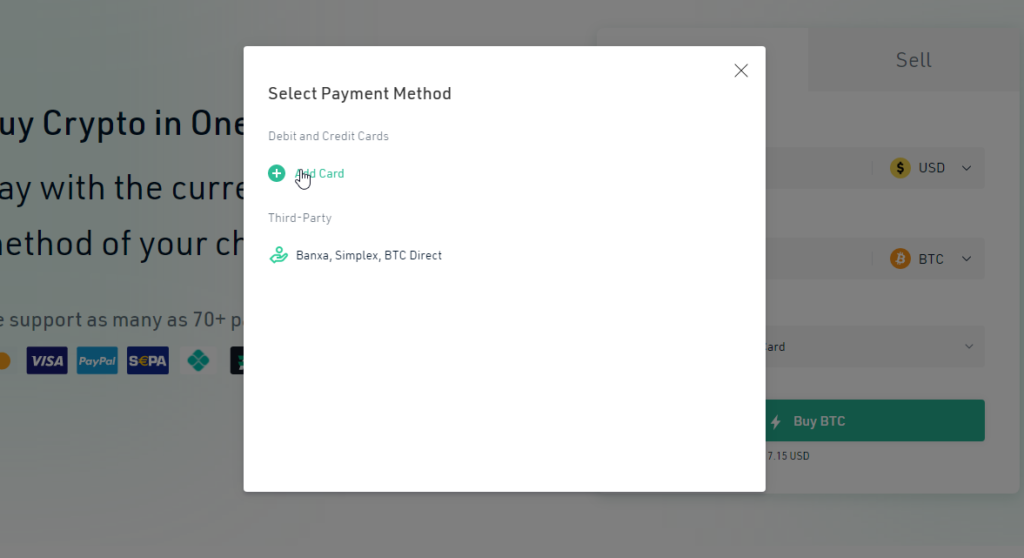 After adding your card, proceed by clicking on the Buy BTC button.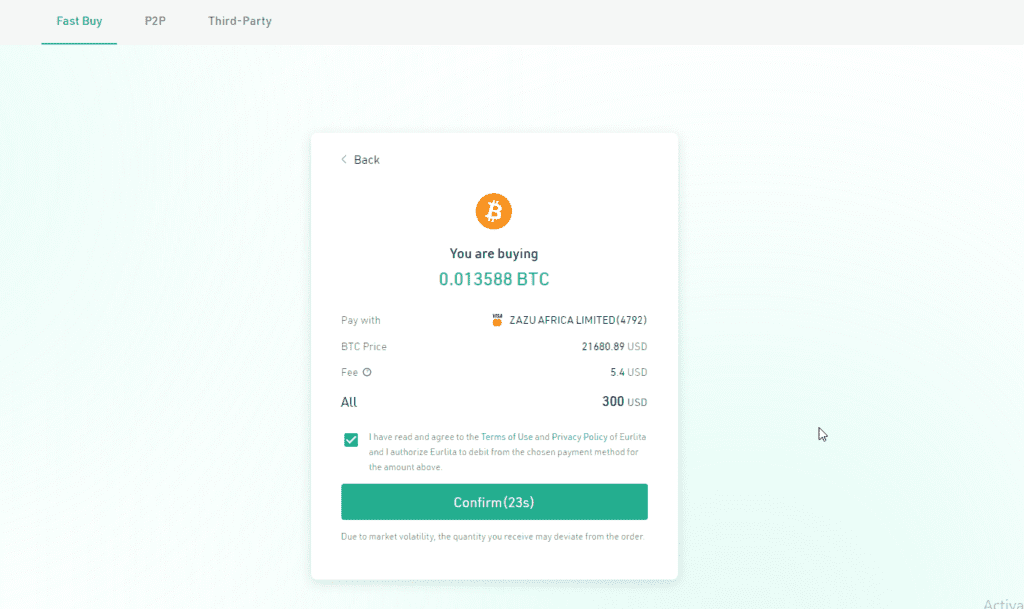 On the confirmation page, click on the Confirm button to proceed with the transaction. You may need to authorize the transaction using an OTP from your financial institution.
Once the payment is authorized, your wallet will be funded with the crypto you bought using your card.
The video below shows how to buy crypto/BTC on the KuCoin mobile app.
KuCoin Logo Design Video
We are using pixellab for this logo design tutorial. In this video, you will learn how to make a coin logo icon. Additionally, you will learn how to design a logo for crypto brands using your smartphone.
Conclusion – How to Buy Crypto on KuCoin
Crypto trading is a good way to grow your income online. And you can rest easy knowing your assets are secured when you trade on a reliable platform.
In this guide, we have shown you how to buy bitcoin on the KuCoin exchange platform using your bank card.
Tell us your experience using KuCoin in the comment section below. If you are using a different exchange platform, also tell us how it has been so far.
Lastly, if you are new to crypto trading and looking for a platform to store your assets, we recommend using the KuCoin platform. You can signup for an account here.