Do you want to open and verify your Grey account? Grey.co, formally known as Aboki.africa is a fintech solution that provides virtual foreign accounts to its users.
With a virtual foreign account, you can send and receive money from your clients online without opening a traditional dorm account.
In this tutorial, we'll show you how to create an account with Grey.co. We'll also show you how to verify your account and request a foreign account.
Table of Content:
Why Use a Virtual Foreign Bank Account?
Using a virtual foreign bank account has many benefits compared to a traditional bank.
For starters, you don't have to walk into any bank to create your account. Once you have a device with internet access, you'll be able to create a foreign bank account.
Additionally, there is no minimum requirement for creating a virtual foreign account. Most traditional dollar accounts require a minimum deposit before accessing a foreign bank account.
With a foreign bank account, you can easily access funds sent to your account. And withdraw at the black market rate without looking for a black market trader. It eliminates the need for third parties before withdrawing your funds.
How to Create and Verify Your Grey.co Account
Now you know the benefits of using a virtual foreign account. We'll walk you through the steps in creating an account with Grey.co, one of the best foreign bank account providers.
Creating Your Account
To start, head over to Grey.co. You'll see the registration form where you need to enter your details.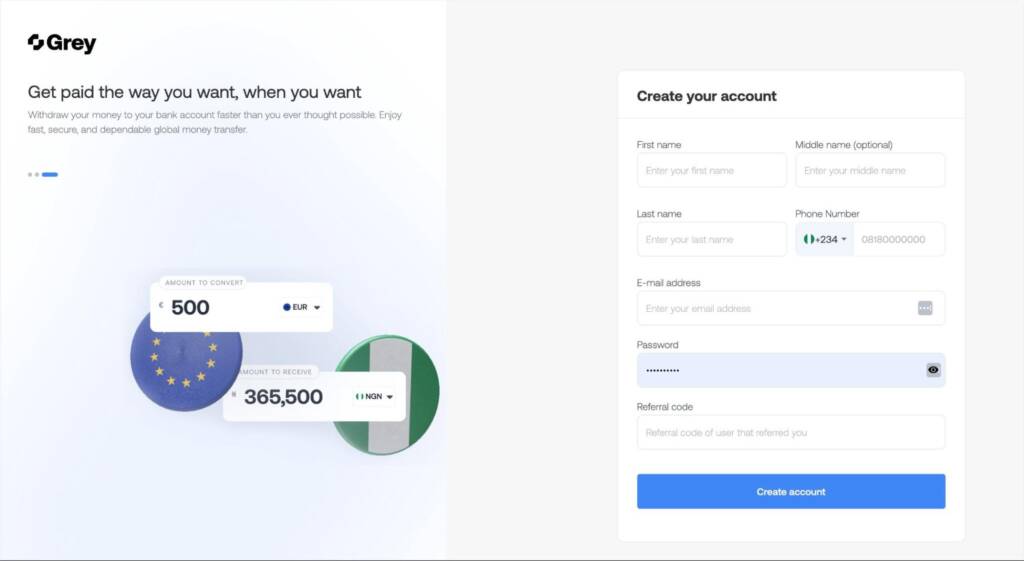 On the registration form, enter your first, middle, and last name as it appears on your ID card. Also, enter your phone number in the Phone Number box.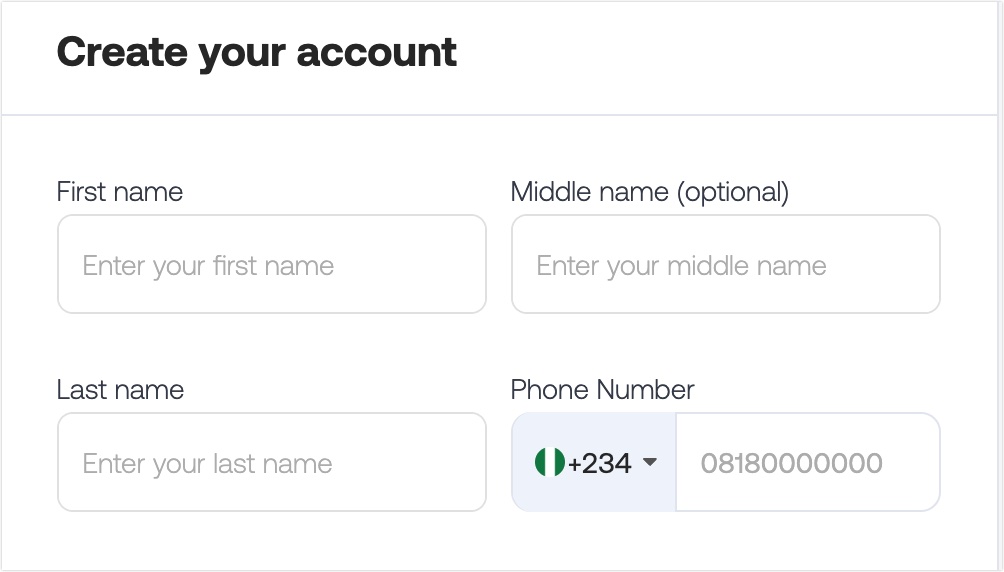 Next, enter your email address and choose your password.
Entering a referral code is optional. But we recommend you use the code (JLAUF6) to support us. 🙂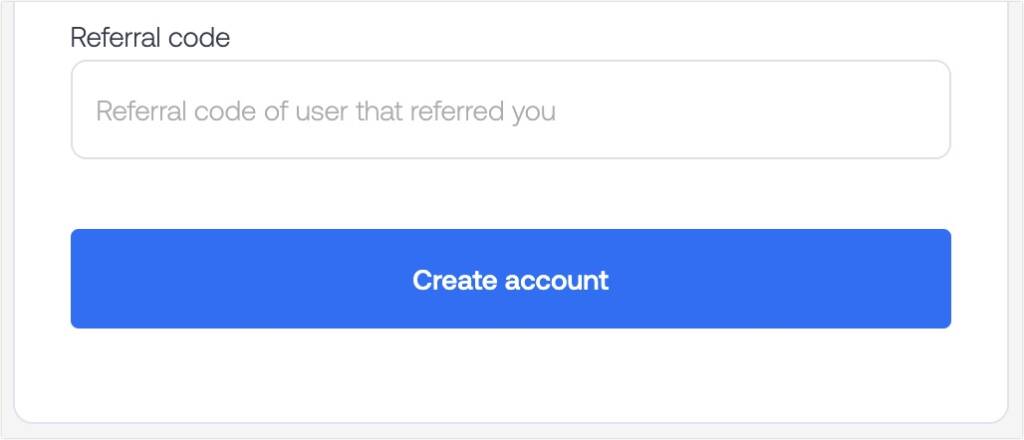 When you're ready, click on the Create account button to register your account.
Verifying Your Account
After creating your account, you'll receive a verification code in the email address you entered during the registration. You'll need to enter the code and click on Verify your account.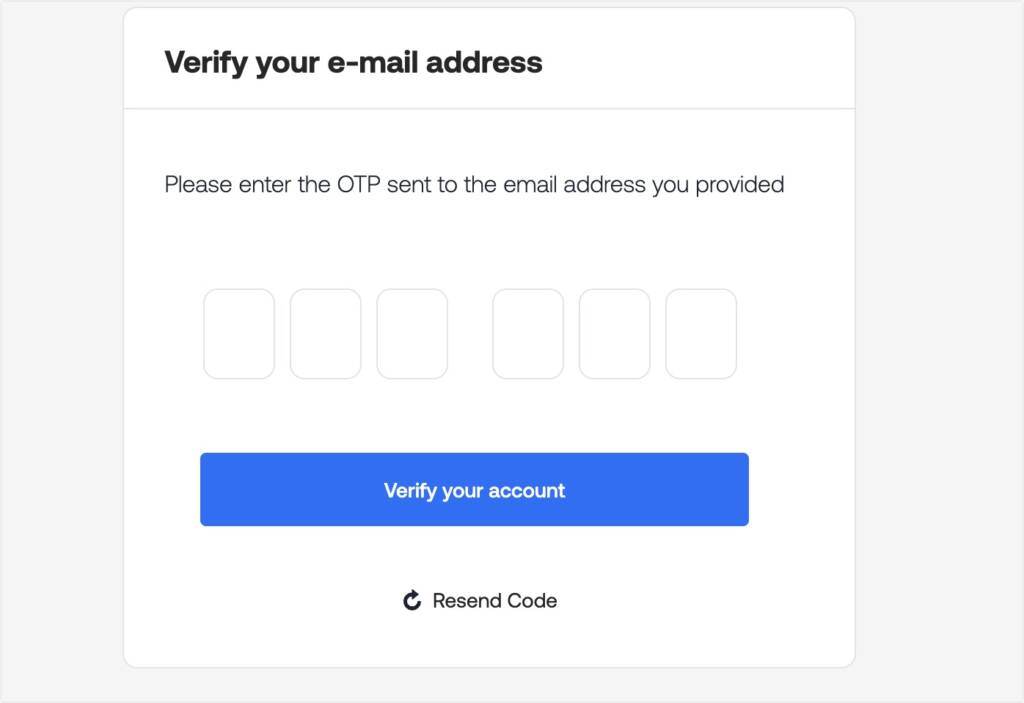 Once you've verified your account, you'll need to enter additional information to begin your KYC verification. KYC is required before you can access foreign bank accounts.
Sidenote: We recommend having your valid ID card with you. Also, use the details as it appears on your ID card.
Address Verification
To start, choose your date of birth and gender as it appears on your ID card. Then enter an occupation such as Web developer, content creator, or YouTuber.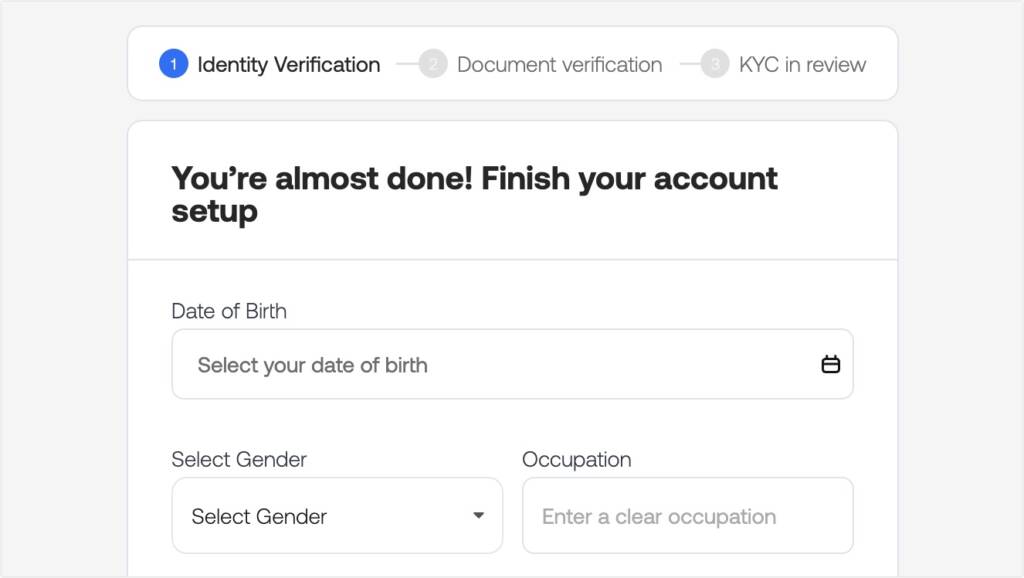 Next, you'll need to enter your address information. This should ideally be the address you're currently residing.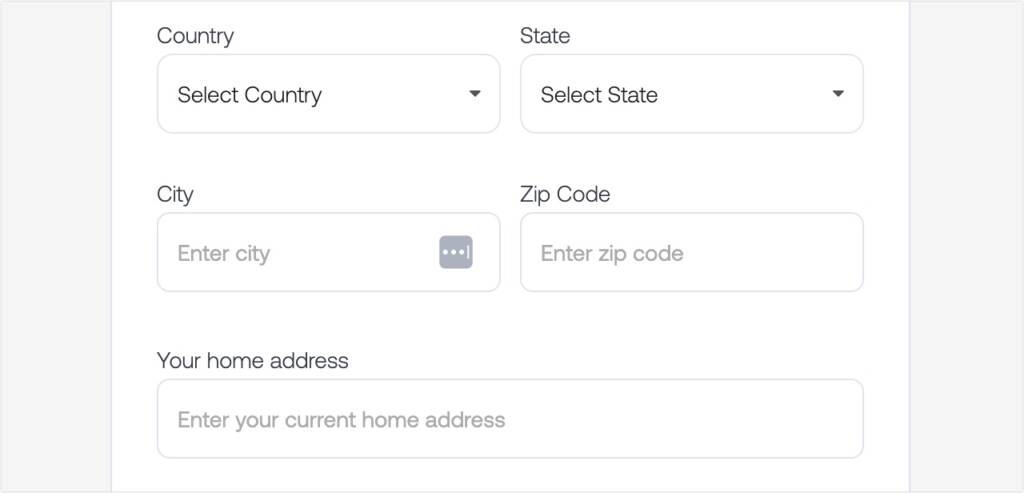 Now, you'll need to upload your Utility bill for address verification. Note that the bill shouldn't be more than 3 months old.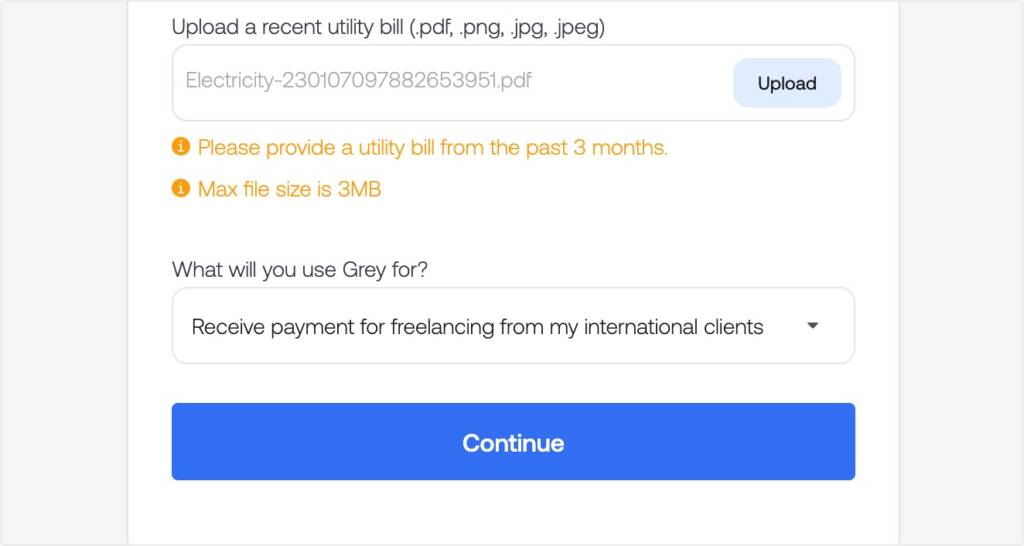 You can optionally enter what you intend to use Grey for. Then click on Continue to begin the ID verification.
ID Verification
The ID verification involves uploading a valid ID card and taking a selfie to verify your identity. Your account needs to be verified before you can fully access the features of this website.
To start, click on the Continue button.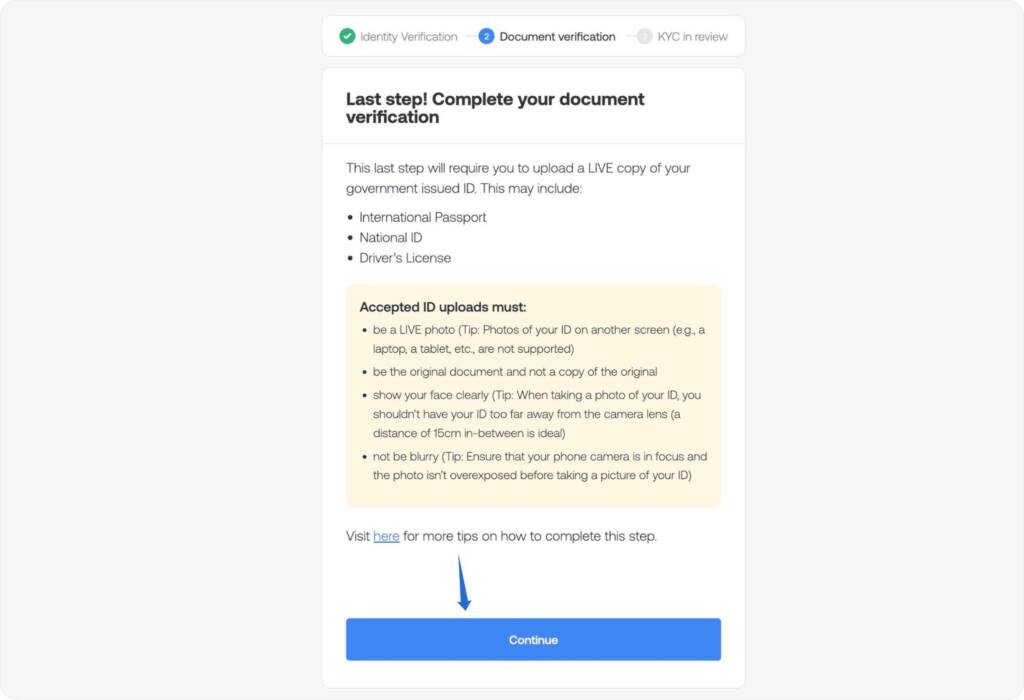 Next, click on Start to begin the verification process.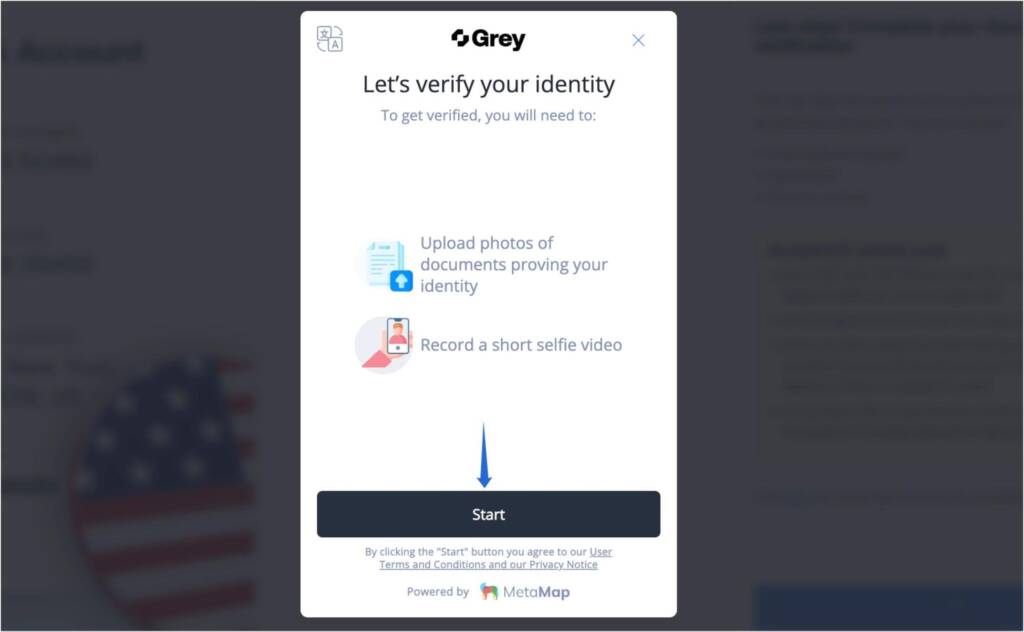 After that, choose your country from the dropdown.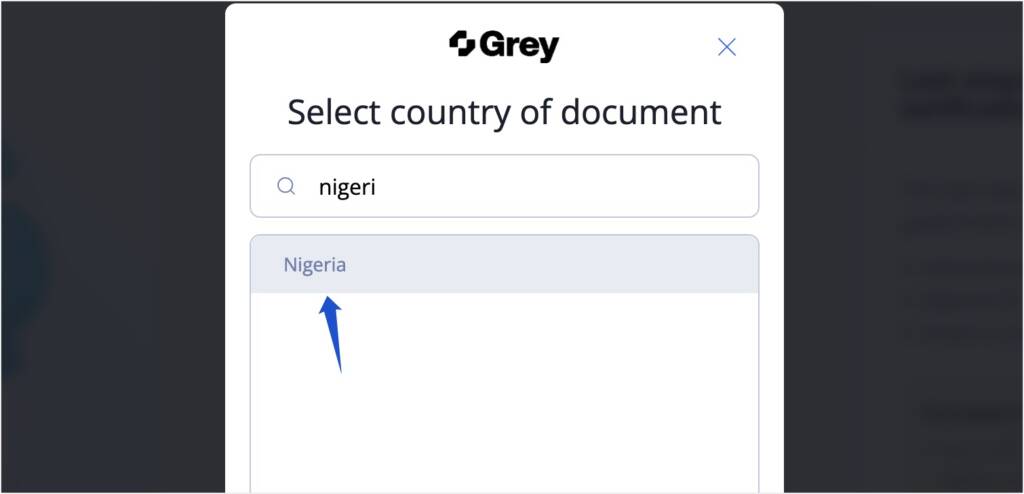 Then select the ID you'll use for the verification. Afterward, click Choose a document to upload your ID card.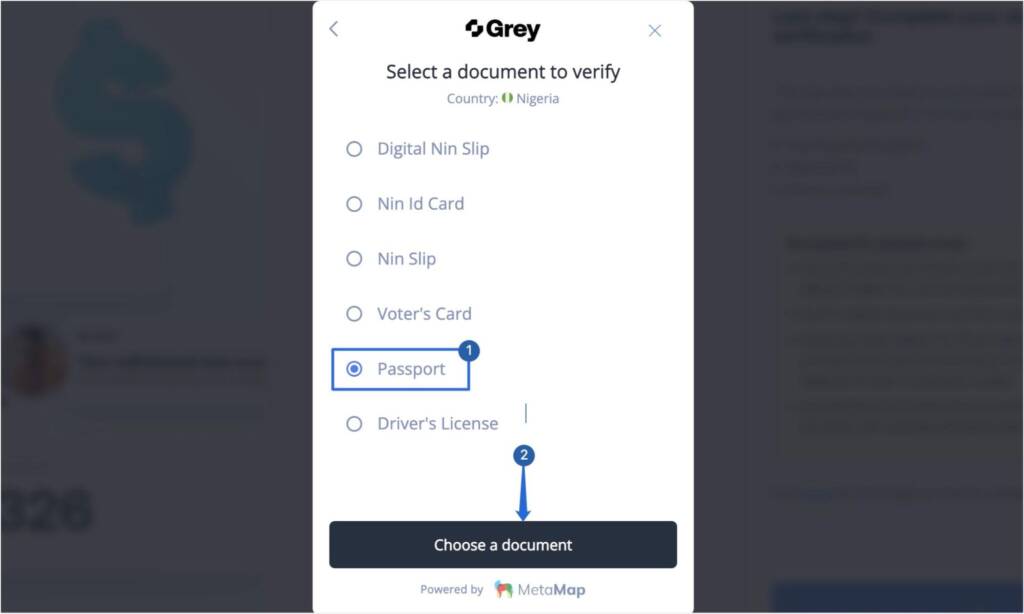 Now, you'll need to upload your ID card's front and back view.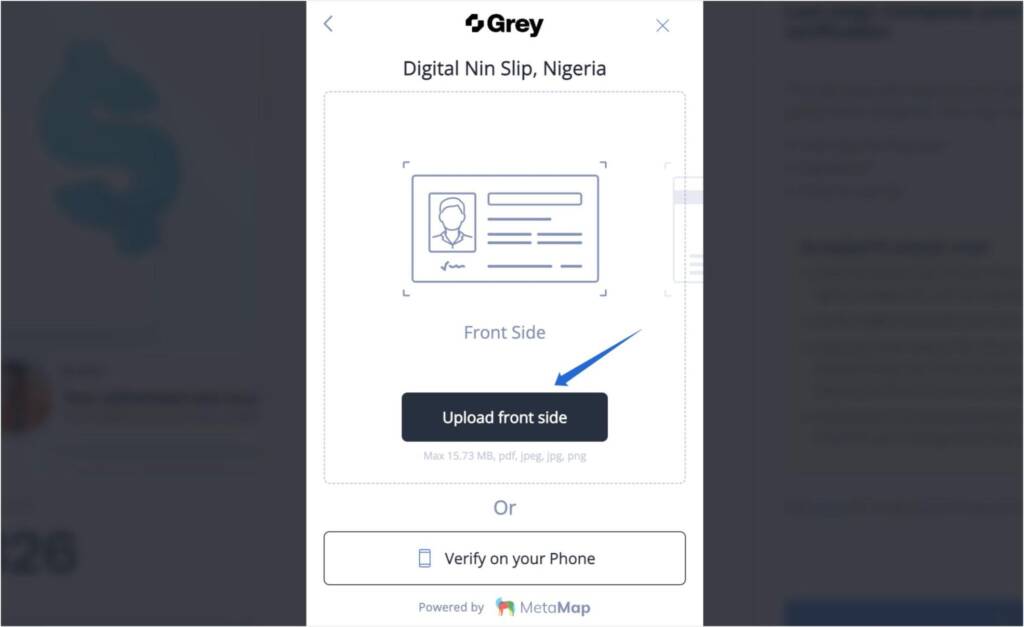 After uploading your ID card, you'll need live video face verification to verify your ID. Once done, your account will be under review.
Requesting a Virtual Foreign Account
Once your account has been verified, you can request your foreign account. For this, you'll need to log in to your account.
After logging in, you'll see all the virtual balances that have been created for you upon completing the account verification. To request your foreign account, choose the account you wish to view its details.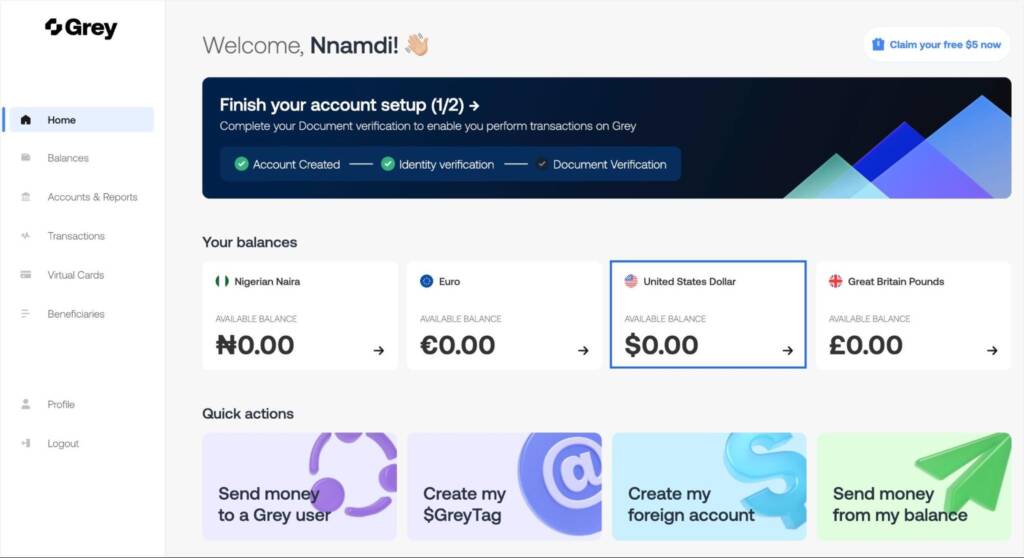 Next, select the Request USD Account button.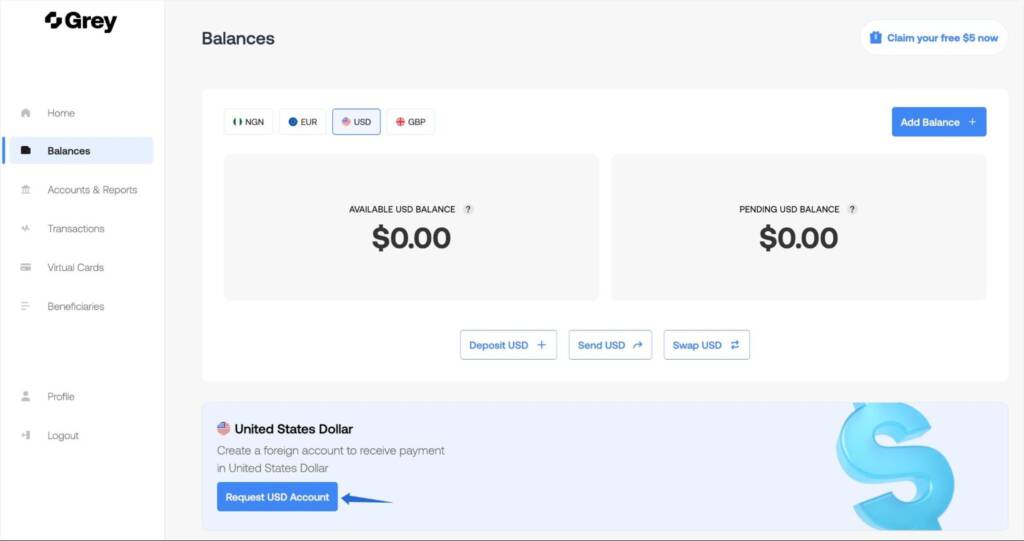 You'll need to enter your BVN and then submit your request. Once Grey has verified your account, you'll be able to access the account details.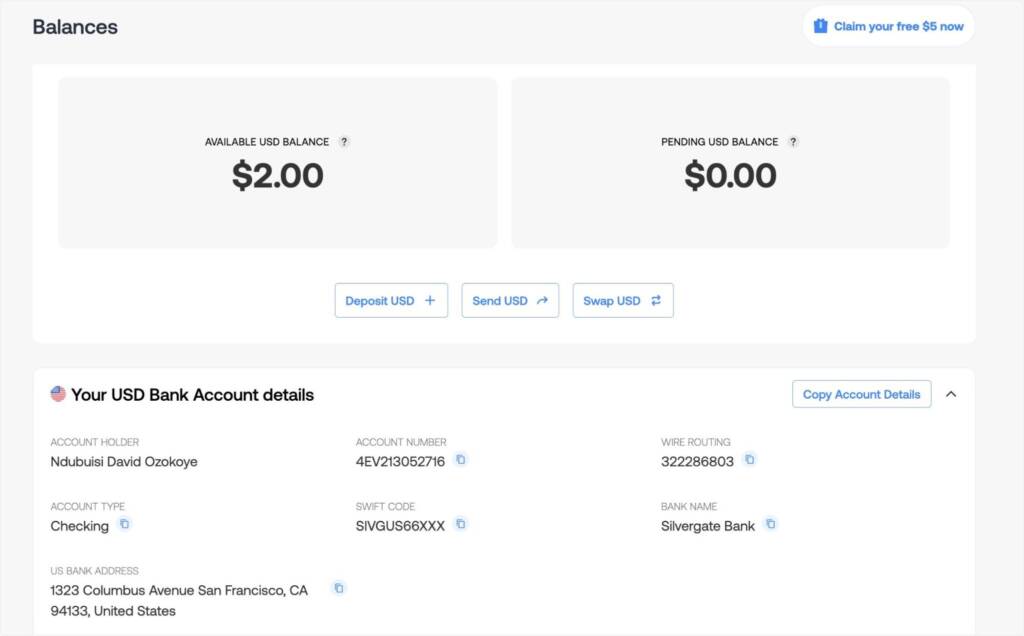 Sidenote: You can follow the same procedure to generate your EUR and GBP account details.
Conclusion – Verifying Your Grey Account
A virtual foreign account gives you easy access to funds being transferred to your account with little processing charges.
In this guide, we showed you how to create and verify a Grey account. Additionally, we shared how to request your foreign account to start receiving transfers.
If you'd like to learn high-income skills to start earning online, check out our post on the top 10 in-demand skills to start learning.